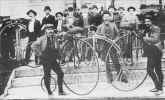 Posed with several companions,
George Gilpatrick (front left)
left Helena in 1893 astride his cycle
bound for the Chicago's World Fair
Saturday, July 28, 2001
Do you ever drive by the historical buildings, homes and landmarks in Helena and wish you could learn more about their history?

If you answered, "Yes," then join in on this Historical Helena Tour organized by the Helena Bicycle Club. Using your bike for transportation, this guided tour will take you around town to sites you pass every day, give you a chance to take a closer look, and teach you a little history of this town we call home.

This will be a leisurely-paced ride with frequent stops. There will be some short segments of gravel roads. A lunch stop will also be included amongst the historical landmark stops.

The ride will begin at the Lewis & Clark Library at 10 a.m. on Saturday, July 28.

If you want to learn more about this ride, contact ride coordinator, Karen Thompson.



Brothers Jonathan and Charles Currah operated the firm of J.C. and C.W. Currah located at 106 Sixth Ave North in Helena. The business devoted attention to bicycle repairing.
Jonathan is described in a 1901 publication titled "Twentieth Century Souvenir - Lewis and Clark County" as "an expert mechanic, a pleasant gentleman, and has built up
a large business."
His younger brother and business partner, Charles, is described as a "young man of integrity, and has before him a career of great promise."